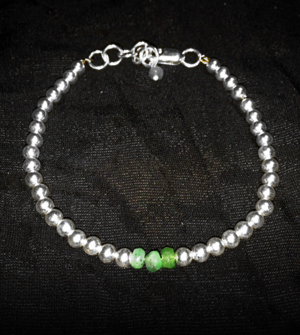 PRECIOUS COLLECTION
Genuine micro-faceted emerald and silver bauble bracelet
Micro-faceted genuine emeralds are the centrepiece of this dainty little silver bracelet. Aquiring affordable precious gemstones for jewellery is a challenge but worth the effort. Available in Sapphire, Ruby, Emerald and Hesonite (yellow Sapphire) but only while precious gemstone stash lasts, unless I am lucky enough to find more!
£35.95

Email us to buy this item >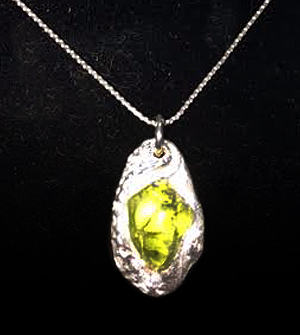 NATURAL COLLECTION
Peridot pebble and liquid silver pendant with chain
Natural shaped polished genuine peridot pebble set into a totally fluid and natural silver setting. This technique, albeit challenging, is an ideal way to craft a piece that truly highlights the organic nature of the stone. Peridot, an August birthstone is one of nature's wonders being formed in the earth's mantle, along with diamonds.
SOLD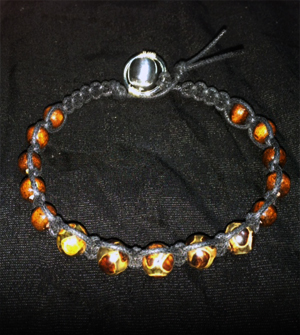 NATURAL COLLECTION
Wood Agate and wooden bead macrame woven bracelet
This bracelet, which is large enough for a gent is made from the most amazing Wood Agate and wooden beads. The Wood Agate looks like wood but is in fact a stone. It has an aluminium and silver plated loop fastening. The earthy tones and organic nature of this piece make this bracelet suitable for anyone to wear.
£28.95

Email us to buy this item >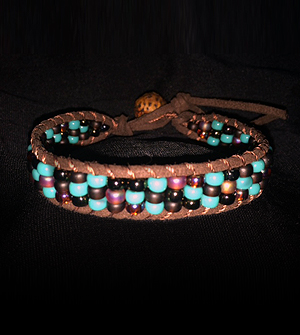 BEADED COLLECTION
Turquoise chevron woven beaded bracelet
This lovely soft turquoise and rustic brown Miyaki bead woven bracelet is so comfortable to wear and is crafted from the best quality seed beads on the market. It will appeal to anyone who loves the colour turquoise and has a coconut shell bead clasp. Suedette cord holds the beads gently in place on your wrist. A very tactile piece of jewellery.

SOLD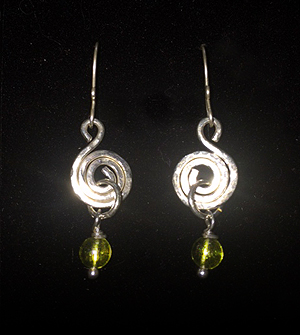 SOLID COLLECTION
Hammered silver spiral and Peridot earrings
These pretty earrings are crafted from a hammered, textured spiral of silver with a 6mm Peridot bead dangling from each one. They are neat and stylish and sparkle in the sun as you move. Peridot is a variety of Olivine and is a very special stone and is said to increase prosperity and happiness.
SOLD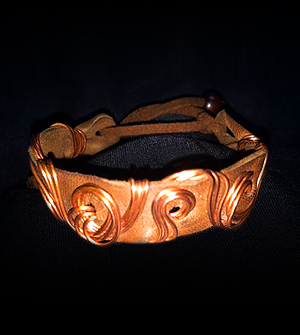 NATURAL COLLECTION
Leather swirl and copper organic cuff bracelet
This ultra soft leather cuff wrap bracelet is adorned with bare copper swirls and it totally unique. The copper is wrapped around the leather and is organic in its nature. Very comfortable to wear. Copper will tarnish and aquire its own 'patina' as it has contact with the air and skin so this piece will change in colour over time.
£32.95

Email us to buy this item >